Hello, and a warm welcome to The Kilt Experience website!
We are Ant and Zoë, the creators of bespoke hand-made kilts, sporrans and distinctive kilt outfits at The Kilt Experience. Since 2018 we have been sharing our life and our genuine kilt-wear creations on facebook and instagram. We've been pleasantly surprised by the support and custom we have received, and for that we would truly like to thank you all. It's taken time and hard work like all good things do, but we are excited to take this next step into the 'World Wide Web' as we hope to help even more people venture into a Kilt Experience journey of their own.
For those who are new to The Kilt Experience keep reading below for a wee introduction or start exploring our website now to discover more about what we do.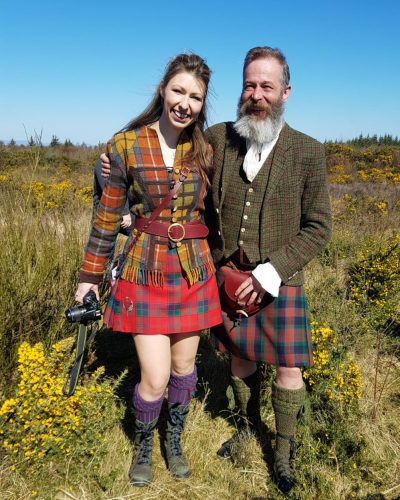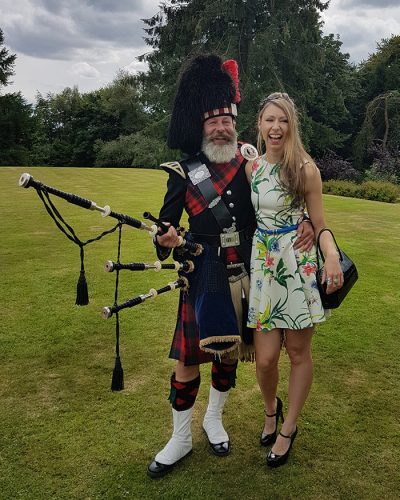 At The Kilt Experience we have a passion for designing and making authentic hand-sewn kilts and sporrans. We love creating traditional and contemporary kilt outfits which complements our enthusiasm for wearing, and performing the bagpipes in, the kilt!
We are proud to make quality handmade products with a genuine life-long value, which is more important than ever in this era of disposable commodity as more people are becoming aware of the damaging effects of 'fast fashion'. The authentic kilt tradition creates durable garments and products which can become a personal legacy, handed down through generations. This tradition demands the highest quality materials and skills which we aim to consistently deliver in all our bespoke creations.
In developing our kilt-wear creations we are mindful of the need to nurture heritage skills and won't compromise on quality or cut corners in manufacture to reduce cost. The provenance of our raw materials and supplies is important to us and where possible we source from local Scottish businesses. We really are privileged to have such fantastic tartan, tweed and knitwear mills on our doorstep in the Scottish Borders and are happy to be able to support their continued success whenever we can.
We hope you feel welcome as you journey into The Kilt Experience, and feel inspired by our passion, enthusiasm and creativity. Get in Touch to create your own personal and distinctive Kilt Experience. We look forward to hearing from you!