 Handsewn KILTS
Entirely Handsewn & Made-to-Measure Kilts


At The Kilt Experience, our bespoke handmade kilts are made-to-measure and handsewn from start to finish in Scotland by our dedicated kiltmaker, Zoë.
Every one of the thousands of stitches is carefully placed in each of our genuinely handsewn kilts which ensures an authentically made-to-measure garment.
We use a traditional approach to our kilt design and our kiltmaking, creating the shaping in both pleats and aprons. This requires careful hand-stitching and a keen attention to detail, ensuring a snug fit to your body shape and size.
In creating our bespoke kilts, we use the traditional 8 yards of 100% wool tartan. By selecting from leading Scottish mills which produce exceptional quality textiles, we ensure that only the best are featured in our kilts.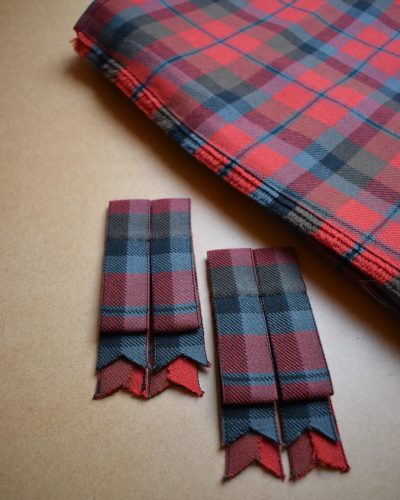 We invite you to participate in the kilt-making journey. From the selection of the sett and weight of your chosen tartan, choosing the pleating option and style, and selection of the custom finish of your bespoke kilt. Including your choice of lining, quality cast buckles in a range of finishes, and complementary handmade leather straps from our range of quality stock leathers.
For the final touch, we create distinctive matching tartan flashes to complement your kilt.

During its creation we will keep you updated on the progress of your kilt so you can see the magical transformation from the initial tearing of the cloth to the final stitches of your fully-formed bespoke garment.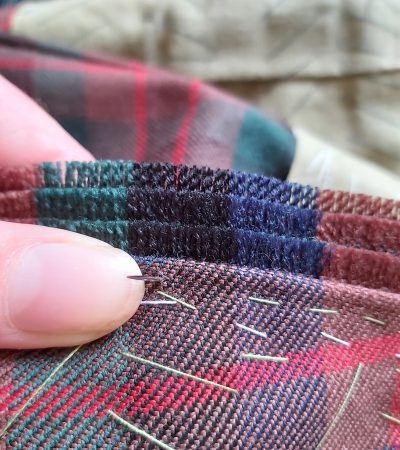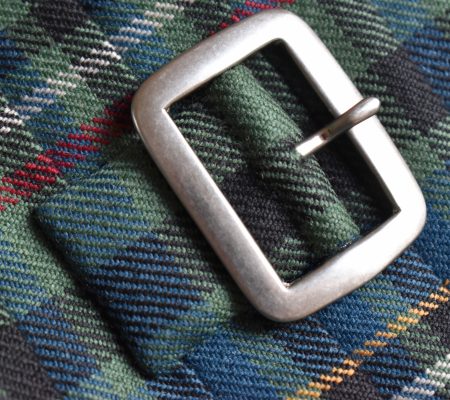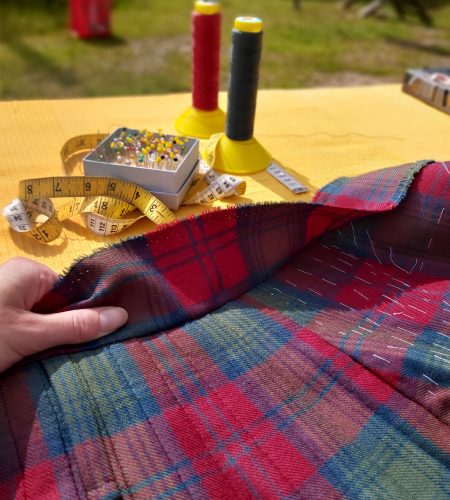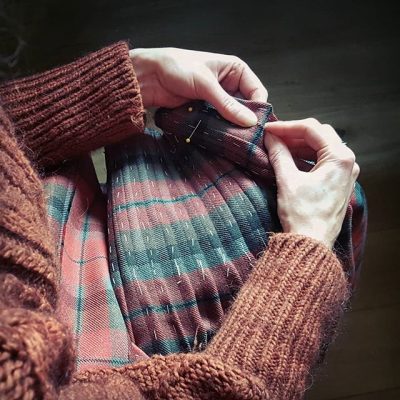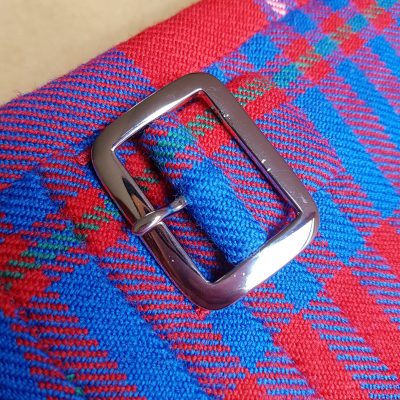 Robertson Red Ancient Tartan
Hand-sewn Kilt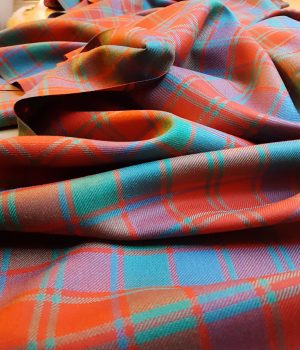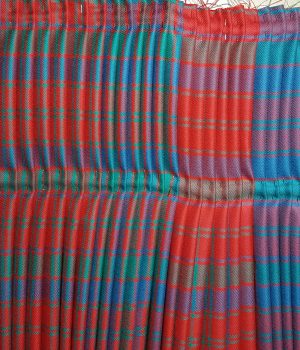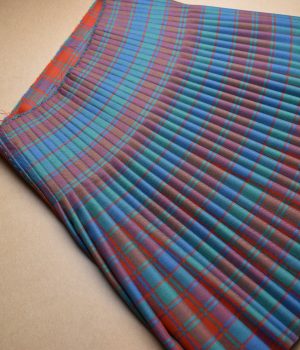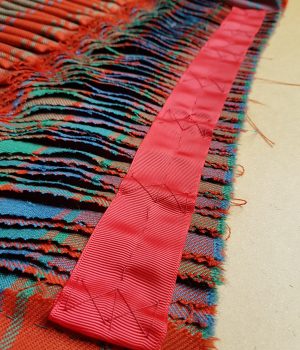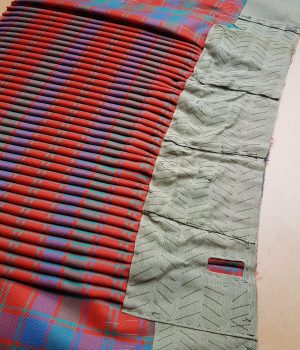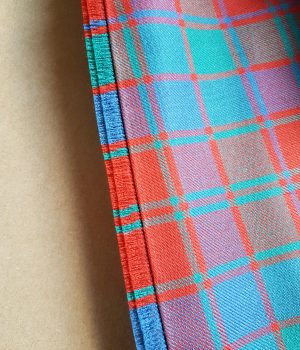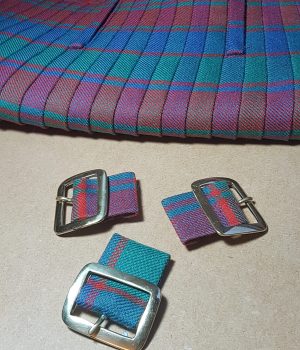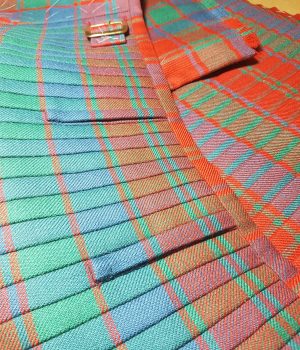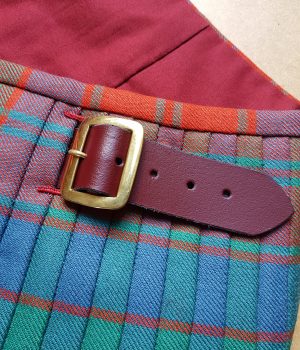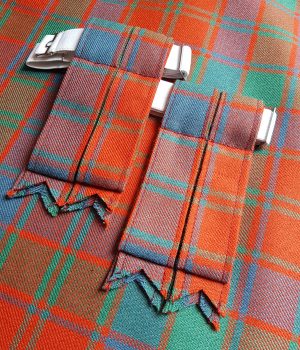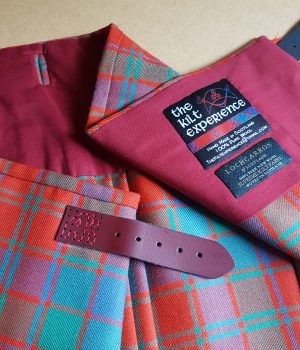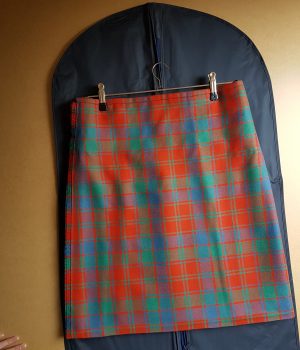 Your kilt is an investment and will last for a very long time with care and consideration.
When you receive your new bespoke kilt you will need to carefully remove the temporary basting stitches. These are the obvious stitches (usually white) which are there to keep the pleats in line during transit. Take your time and take care not to catch the tartan of your kilt when removing them.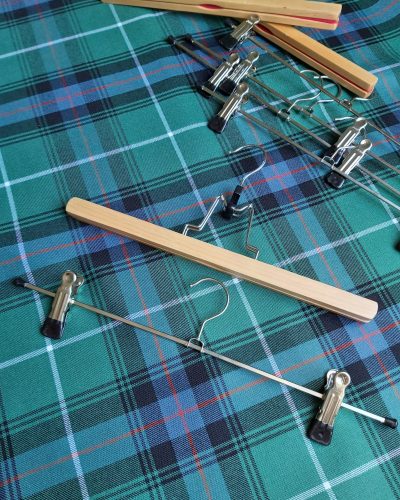 After wearing your kilt each time, you should let it air and dry out thoroughly before putting it away, to prevent mildew and mould. Lay it out flat, with the inside facing up to ensure any sweat can evaporate.
To store your kilt and only when fully dry, we recommend hanging your kilt using a quality clamp hanger which fully supports the weight of your kilt. We do not recommend using the hanging loops that are common on some older kilts, as hanging this way can leave your kilt sagging badly. For this reason, we do not sew hanging loops into our kilts.
Make sure that there is room in your wardrobe for your kilt to hang straight without being crammed against other items. Storing in a garment bag can be a good idea.

The larvae of clothes moths live in natural materials, especially wool, and can cause damage to your precious kilt.
It is important to regularly check your kilt for signs of moth activity and to brush out any lint you may come across, particularly if you are wearing it infrequently and especially if you notice moths flying around.
As a matter of course, we always place incoming kilts for repair/ alteration into the freezer for 48 hours to ensure moths are not introduced into our workshops.
Natural Cedar wood shavings/balls and commercially available insecticides can be helpful in deterring moths. If you do find evidence of moths we would recommend you seek professional help.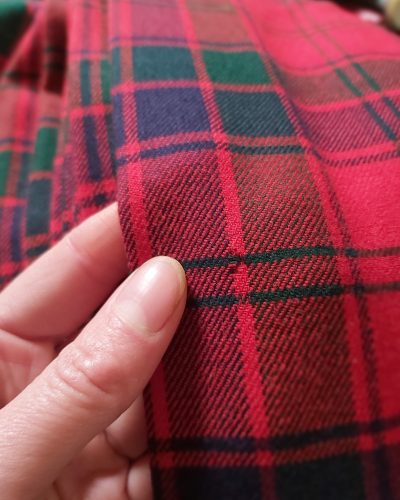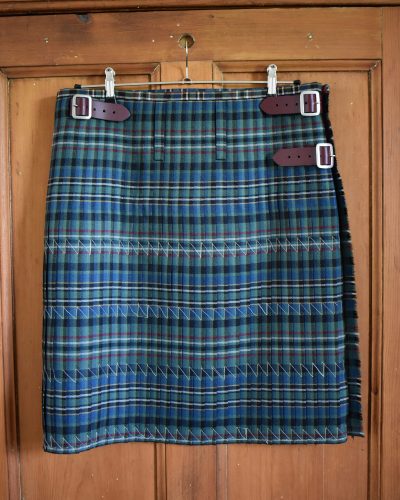 There are many opinions on the best way to clean your kilt. If you are careful when you wear your kilt and ensure it is always aired after being worn, it should not require to be cleaned very often.
Small stains and spillages can be sponged or dabbed with cold water.
Traditionally, kilts would be washed by hand in cold water, carefully dried and re-pressed.
Some kilt retailers recommend dry cleaning, however there are concerns that this can strip out the natural oils in the wool. If you do use a dry cleaners, be sure that they are familiar with cleaning kilts and are able to re-press them carefully. Often inexperienced dry cleaners can leave the pleats misaligned and out of shape.