The sporran has become an integral part of modern kilt wear. Its prominence, hanging in the centre of the kilt apron makes it highly visible. This means as well as being functional, its form is important for display. Its designs reflect fashion and event formality, and have been used to indicate rank.
The origins of the sporran, which translates from Gaelic as purse, is as a functional pouch. In antiquity, before the advent of pockets, most cultures would have used a convenient and secure purse or pouch to hold valuable possessions, frequently used items or even food. These would have been hung around the body on a string or belt particularly under outer or loose garments. Sometimes outer garments had slits cut into them so as the wearer could access the pouch without needing to take them off. There are differing opinions around when pockets started to be stitched directly into clothing.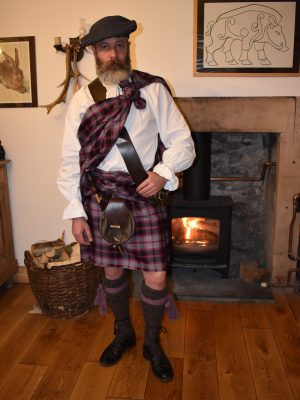 In Europe during the 17th Century, pockets were being sewn into coats and waist coats. However, use of belt-hung pouches would certainly have continued during this period particularly for those wearing clothing where pockets would have been impractical. 
One such garment was the  féileadh-mór, the great loosely-pleated tartan belted plaid, from which the modern kilt can trace its origins. The earliest contemporary descriptions of the féileadh-mór appear at the end of the 16th Century.
A simple leather draw string sporran was worn on the belt of the féileadh-mór.
By the 18th Century many of the depictions of sporrans occur on illustrations of military figures and in portraits of the aristocracy. These show the development of sporran style with a metal clasp known as a cantle. Surviving examples of sporrans from this period can be seen in National collections and provide the detail for authentic reproductions.
During the 19th Century the sporran developed along several lines becoming elaborate and ornate, using a range of animal skins and hair, some becoming increasingly large and others incorporating full face animal 'masks'. Tassels appeared on even simple leather sporrans perhaps reflecting the now redundant draw strings and fastenings from earlier times. The Hunting sporran appears often with a leather cantle and tassels pinned to the sporran body.
The sporran became almost exclusively worn with its own belt, initially a leather strap but increasingly replaced by metal chain.
During the 20th Century sporran design continued to reflect changing fashions. Celtic revivalism saw the incorporation of  motifs from the 5th to 9th Century on the leather work and in the cantle. Increasing popularity of the kilt for wedding and formal events during the latter part of the Century saw a huge demand for the mass produced 'dress' and 'semi-dress' sporrans which have become the 'staple' of many high street and internet 'kilt' retailers, and kilt hire establishments.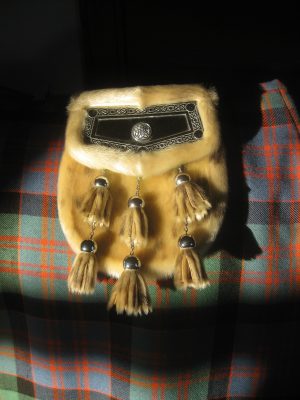 Military sporran design also became more elaborate, including long horsehair designs. The varying hair colours, combination, size and pattern of tassel came to denote regiment and even rank.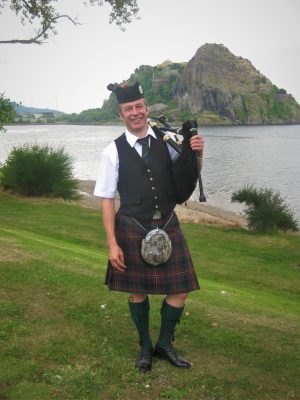 At The Kilt Experience we have drawn on 40 years of sporran-wearing experience in designing, developing and creating our own range of distinctive sporrans. Our sporrans are essentially functional. They are entirely hand-made from first cut to final polish in a range of quality leathers using traditional hand-stitching techniques.
Fashion continues to drive the development of the sporran. Asymmetry, once an unconventional alternative has been appropriated by large manufacturers. 'Lifestyle' preferences are seeing a growing demand for low carbon, indigenous provenance and cruelty free alternatives to the generic mass-produced and animal product designs. Novel design and materials are still being sought and tested.
We use distinctive antler fastenings on a number of our designs with deference to early 'draw string' sporran pouches. We make these fastenings by hand from naturally-cast Scottish red deer antler, and feature them on our 18th Century Style ('soft-body') Sporrans and in our unique Antler Sporran range. Our Antler sporrans incorporate a stronger body design, with the antler fastening, in simple and distinctive form.
All our sporrans are designed to be functional and look great. Each sporran is entirely hand made to order, so no two are identical. We are happy to discuss our sporran designs, how we make them, and work with you if you have your own ideas or custom requirements.
We look forward to hearing from you!
Ant and Zoë